Jon Williams – Musical Director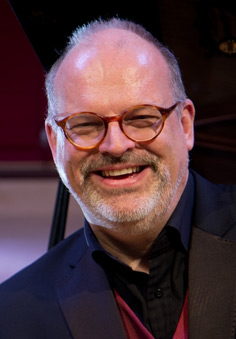 Dr. Jon Williams became Musical Director of Dover Choral Society in September 2019. He was born in the North East and grew up in Manchester. Being the son of a teacher and a vicar, it seemed inevitable that Jon would end up spending a lot of time in classroom and choir stall. As a teenager he was an organist and choirmaster, and honed an enthusiasm for choral singing as a member of Manchester Cathedral Voluntary Choir. He went on to study music at Durham University where he was also a Choral Scholar in the Choir of Durham Cathedral and Director of Durham University Chamber Choir. He graduated with a Bachelors degree in 1989; continued on to complete a Masters degree in Early Music with Dr. Jerome Roche in 1991, and was awarded a Ph.D. by Canterbury Christ Church University in November 2020 for his research on bass singing in England in the late-17th and early-18th centuries.
Jon first moved in Kent in 1990, and—apart from three years in London on the staff of The Musical Times and Choir & Organ magazine—he has lived and worked as a musician in the county. He was a Lay Clerk at Rochester Cathedral for three years in the 90s, but his main choral work has been as a Lay Clerk at Canterbury Cathedral. Jon has also appeared as a bass-baritone soloist with choirs and choral societies across the South East, including, on numerous occasions, with Dover Choral Society.
He has participated in over twenty-five commercial CD recordings with cathedral choirs throughout the UK, and most recently has worked with The Harmonious Society of Tickle-Fiddle Gentlemen on recordings of music from the Baroque period ('Gottfried Finger: Music for European Courts and Concerts' came out on the Ramée label in October 2019). He has broadcast regularly on radio, TV (most recently in David Starkey's Music and Monarchy for BBC2 and Canterbury Cathedral for BBC1) and online, and has performed in concerts and festivals throughout the UK, Northern Europe, the USA and Canada. Jon has collaborated for nearly fifteen years with Canterbury Cathedral colleagues David Flood and Chris Price (The Good GNUs) in highly acclaimed concerts featuring humorous songs by Flanders and Swann and others. He is also a regular member of the ensemble Cantuar who have revived, in concert and recordings, the music and mayhem of the celebrated Canterbury Catch Club.
Jon completed his PGCE at Canterbury Christ Church University in 2001, and has worked in a number of Kent schools including as Director of Music at Simon Langton Girls' School in Canterbury and Head of Music at Sir Roger Manwood's School in Sandwich where he was also a Governor. He is a pianist, organist and jazz enthusiast and has enjoyed cycling for charitable causes, including riding from Canterbury to Rome in 2007.
Jon is married to the delightful Cressida who, when not engaged in the deft management of her daft husband and their lively children, also runs the Archives and Library at Canterbury Cathedral. The kids, Naomi and Matthew, proving that the apple never falls far from the tree, have inherited the singing bug and are respectively girl and boy choristers in the Cathedral Choir.